I have really struggled with the thought of blogging over the last week.  How do you talk about inconsequential stuff when people in 5 states are trying to deal with devastating floods.  God knows what is going on in NSW at the moment, because as soon as QLD peaked last week, we in Victoria got our own heavy rain resulting in flood events.
More than 40 Victorian towns and cities have been directly impacted by the floods that have been going through parts of Victoria since Thursday.  Today, as I write this, the townships of Kerang and Warracknabeal are fighting to keep their levees in place.  If the levee around the substation in Kerang is breached, 20000 households will lose power until they can repair the facility.  For both of these cities, they are dealing with unprecedented flood levels, so no one knows what exactly is going to happen.  Kerang has just been evacuated, because once the 4th road out of town is closed, they will be isolated for days.  I don't know Warracknabeal, but my parents lived 20 minutes out of Kerang for more than 10 years.  When they left 5 years ago, their water allocation for the farm was almost nil.  Now the people of Kerang are dealing with massive quantities of water!
As I watch and listen to the news about this ongoing dreadful event, I have to repeat what one of the victims had to say "… my faith in humanity has been restored." I have left off the first bit of the quote, because the speaker stated that his faith in mother nature has been damaged, but knowing the climatic history of Australia, my faith in mother nature has been strengthened, but when I look at what thousands of Australians have done over the last few weeks, my faith in humanity has been strengthened. It is part of being an Australian that when a disaster occurs, we all pitch in to help. When you look at the video of Queensland now, you see where literally 1000's of people have grabbed their cleaning supplies and headed towards the areas affected by the floods and have just turned up at a house where there was an obvious need to help and started shovelling, washing walls, and removing the flood affected debris in an effort to help these people recover.
Flood appeal fundraisers have been set up all over the place, including online.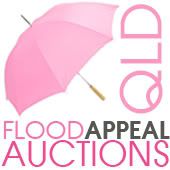 The Needlework Boutique has donated a chart, fabric and threads to the flood appeal auction being hosted by The Oz Material Girls on their $1 Auction Fan Page. The number of items that have been donated to raise money for the victims of this dreadful crisis is amazing.  I have included the link to the album that contains my chart.  The chart that I have donated is
Ispirazioni d'altri tempi – Set grigio e rosa by Mani di Donna.  It consists of a needlebook, pincushion and pocket.  I have kitted this with your choice of 32ct Natural or Flax coloured linen using 2 skeins of Crescent Colours Hand Dyed cotton Floss.  I will also be covering the cost of mailing this kit to anywhere in Australia.
So far these ladies have raised over $16000 dollars!  Isn't that amazing.  What a wonderful job they have done.
Make it Perfect is also hosting an auction which looks to be on target to also raise a lot of funds for the flood appeal.  Every cent raised by each of these auctions is destined to the flood appeal.
Please go to one of these sites and make a bid.  I would love to see my chart go for more than $50, but only you can make it happen, but if this does not appeal to you, then choose something else to bid on.
Later today, I will try to start catching up on my 31 days of UFOs and WIPs.