Report writing season is over for another 6 months, and I took the last 2 weeks to recover.  This year it just took so much more out of me than it has in the last 2 years.  Maybe because I am not only teaching 2 subjects I have never taught before, but they are subjects that I am always trying to be my best at.  Never mind.  I have my dreams and goals where they belong, and I am working towards making them my reality.  And as part of that path, I am participating in Karen's annual Where Bloggers Create party on July 15th 2011 over at My Desert Cottage. I have made several really big changes to my studio in the last 6 months, not all are finished quite yet, but it is happening.  I just need one more piece of furniture, a lamp and then it is down to tidying the room.  After that, it will be down to the decoration of the room.  This I wont force, but allow time to do it's work.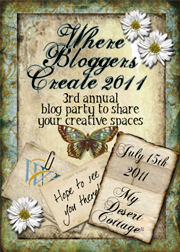 My Desert Cottage
Last year over 400 bloggers opened their studios for all to visit.  Mine was one.  You can see pictures of it
here
.  If you have your own studio, why don't you join in the fun?