The day has arrived!!!!  Time to invite you into my studio!  Sorry for the delay, but I wanted to make the room presentable for all my guests!  Which included vacuuming the floor – I have been doing so much sewing lately!  We wont pass through the shop on the way – it is next on the list to be decluttered, painted and set up!  LOL.
Come in, and join me for a while.  There have been big changes since last year.  The room is cozy – 3.88m x 2.8m (13ft x 9ft).  Where the bed is now is where the mirrored doors were last year.  And where the cube shelves are is where the sofa bed was.  I had wanted to have the absolutely fantastic Periodic Table of Sewing Elements created by The Scientific Seamstress printed and hung on the back wall before the Studio Tours, but I ran out of time.  Don't you think it would be a fantastic addition to my room, considering I am a microbiologist teaching maths, science and textiles to secondary school students?
 I have tried having the sewing table at right angles to the wall before – it does actually fit between the cubes and the wall, and over time I could probably move the end shelves out (and probably will).  I have found that it is easier to use the cutting mat when I can access it from all sides.  The amber sewing machine trolley fits nicely under the table.  I have toyed with the idea of making a skirt to hide it all, but I love the openness of the unskirted table!  The amber bag sitting on top of the sewing machine trolley contains one or two of my current works in progress.  On the table in that pile are a number of items that I am currently working on. I keep thinking about getting a narrower table to give myself some more room in here, but this one is just about perfect, so for the time being it stays!  My trusty Janome is such a good machine!  I have now had it for 20 years.  I keep looking at computerised machines, but I currently can't justify it when this one does everything I need it to.
 A more detailed view of my sewing table.  I keep a small bin on it for when I am sewing, but have found that I still use my large bin all the time!
 Here you can see half of my shelves.  I borrowed the idea of hiding some things behind cupboard doors from another blog (can't remember who it is now – I think Posie Gets Cosie?) and really like the idea.  The top cupboard has some needlework and quilt tops that need to be finished, the other door has my embroidery threads hiding in here, while the 3rd door (you can't see it here) has a lot of miscellaneous fabrics behind the door.  I have most of my patchwork fabrics in those blue plastic containers, while projects are located in the boxes beneath them.  I also have patterns for cross stitch, embroidery and patchwork in the white boxes, while magazines and charts are located in the various magazine boxes and folders.  My plethora of needlework related books are located on the same row of shelves (for the most part LOL) all the way along.  I do have some more fabrics in another, large, plastic bin located elsewhere, but I will be putting them on the top of the shelving unit in small plastic boxes similar to the blue ones as soon as I can get to Big W (which is where I got the others from)
 This is the only corner I am still not happy with.  Most of what is in this shelf, I will probably end up moving elsewhere.  Reading through some Studios magazines, I have picked up the idea of removing articles, patterns and pictures that I love from magazines, and storing them in folders, scrapbooks and inspiration books.  I am considering putting an inspiration board on the wall underneath the shelf, but that will make this space even tighter.  Despite the fact that I have an air conditioner in The Bungalow, I need the fan during summer and a small electric heater during winter.  Probably doesn't help that I keep the window in this room slightly ajar all year for fresh air to circulate!
 As a rule, the shelves have not changed.  But I needed somewhere to keep my Ikea ironing board, and it hangs very nicely off my shelf supports!  Below the shelves sits a basket containing my Dear Jane Project.  I had considered keeping her in something else, but I do find it easy to just grab the basket to go to my Dear Jane Class.  The baskets and tins contain a plethora of threads, silk, Sampler Threads and Weeks Dye Works.
So did you enjoy your visit to my Studio?  Why don't you have a look at some of the other Studios on this tour?  Before you go, feel free to leave a comment…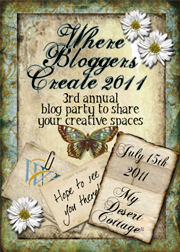 <