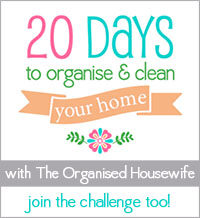 I have tried Flylady, I have tried the Change Your Life Challenge and Extreme Home Makeover (both of which are excellent programmes).  But I always fall off the wagon.  I struggle with maintaining a clean and tidy home.  And it drives me crazy.  Particularly when you look beneath the dust, beneath the clutter on the tables and benches.  Then you will see that I am highly organised.  Heck, my novels are shelved in alphabetical order.  And within a particular author, in published order!  If that is not extreme, then what is.  In the shop, I currently have all the designers organised in alphabetical order, and the threads!  Oh boy are they organised.  But the surface – that is another story!
The kitchen is almost finished, and I have started putting things away.  Because of major changes, I am struggling with this.
So I decided that enough was enough.  It does not matter that often my life is so busy, it feels like it is out of control, I need to get my house under control once and for all.  I know that there will be times when everything will be out of control again, but once I get a routine going, I should be able to stick to it.
I have decided to participate in the the 20 Days to Organise and Clean Your Home, with The Organised Housewife at the helm. Once the house is clean and organised, the task will be to then maintain the house, so that when December comes, I will be ready for the family Christmas Party.